PDFs are the most used document format.  Whether it is ebook, portfolio or documents with rich texts, charts, images, they all are mostly in PDF formats. People use their smartphones to read ebooks these days, this is the reason why every Android phone needs a PDF reader app.Here we list out the top 10 Best PDF reader apps for Android Devices.
Without Further ado, let's get straight into the list.
1.Adobe Acrobat Reader
Adobe Acrobat reader tops in our list with its simple interface and the wide variety of tools available. Adobe is the company who is the mastermind behind the PDF Format. When they launched PDF 1.0 back in 1992 they developed a Reader software for Windows Called Adobe Acrobat Reader. The free and feature-rich software is used by millions of people for reading and editing their PDF files.
Adobe released it's Android PDF reader years back. Till then it is the most used android pdf reader app. it's simple interface and features make it the best android pdf reader.Apart from viewing a PDF document, it supports Annotate and Review PDF files, Scan documents and whiteboards, Quickly fill out forms, Print store and share files etc.
Adobe Acrobat is free to download and use app, You can subscribe to an acrobat pro account if you need more features like convert and export PDF files on the go.
2.Google Books
Google books are fairly a new entry in the eReader market. It serves as a great alternative to Amazon Kindle.  This app is primarily a digital reading app and it can open PDF files as well. As a google books user you get access to millions of ebooks in various categories. One of the important feature of this app is that it gives smart recommendations just for you to make your reading experience better.
Google books come integrated with google translator, Wikipedia, and maps. The app has pretty clean and decent interface. Google playbook can fulfill your basic reading experience, the biggest disadvantage of the app is that it doesn't support of importing ebooks from third-party sources.
3.Google PDF Viewer

Google PDF Viewer is another great app offered by Google LLC. Though Google drive has an inbuilt PDF Reader, This Standalone app comes in handy while handling documents offline. It can view, search and print PDF documents on the go. The app is lightweight but faster than other PDF  reader apps for android. It smoothly scrolls long PDF documents without page loading problems.
Unlike other PDF reader apps, it does not add an icon to the Android interface. The app opens by default when you open a PDF document. The app has fewer features than other PDF apps offer, however it does what it is made for. The biggest downside of this app is that the missing 'Go to page' Option. You have to scroll down to the desired page to view it, this will be irritating when reading PDF documents with hundreds of pages.
Overall it is a pretty decent PDF reader app Android devices and it is able to spot 3rd position on our list.
4.Foxit PDF Reader
After getting a considerable success from the PC users Foxit has finally entered the world of Smartphones with their new Foxit Mobile PDF reader. Foxit Mobile PDF reader is an easy-to-use PDF reader which does the basic functions like view, annotate and protect PDF flies pretty well. The app comes with a technology called connectedPDF which powers Document intelligence, Security, and Collaboration services for PDF files.
The app is rated quite high in Google play store and it's, definitely a great PDF reader for Android SmartPhones. Foxit Mobile PDF is a feature-rich app, it can do basic functions like View, annotate and organize PDF files. Work with Connected PDF technology, Work on PDF files to fill out and save PDF files, import and export PDF files, Store, Share and synchronize files etc.
Foxit Reader supports advanced features like Protect PDF files with passwords and Microsoft Right to management system(RMS), Participate in share reviews and email-based reviews, Optimize and convert PDF files etc. to use these advanced features you need to subscribe to Foxit MobilePDF account.
5.XODO PDF Reader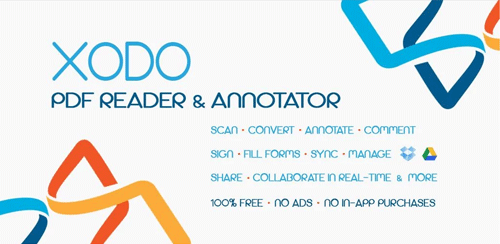 Xodo PDF reader is a stunning and feature rich PDF reader and editor for Android smartphones. with Xodo PDF reader you can view, read, annotate and share PDF files with ease. apart from PDF files Xodo supports .docx and .pptx files as well. it syncs with Google Drive, Dropbox etc. Making it easier to save and share your files to the cloud.
This app offers a  bunch of features than any other PDF apps in this list like Bookmark PDFs, Night mode, tabs support for opening multiple PDF files, full-screen mode, text search etc. its powerful PDF annotator and editor engine makes it easy to draw and type easily on PDF files. Xodo can fill and sign PDF forms, convert and create PDFs etc
And the best aspect of this app is that it is completely free, which makes it the best free PDF reader for Android devices on our list.
6.Office Suite
Office suite is a PDF Viewer app from Mobisystems. It's a complete office app which allows to view, edit and create Word, Powerpoint and Excel files. It can also open and perform advanced PDF operations.
With its desktop-style interface, it's easy to view, create and edit office documents and PDF files. it supports camera scanning of PDF files. The best feature of office suite is that it easily allows you to convert between office formats. you can easily convert a word file to pdf and vice-versa.
Office suite allows you to easily edit PDF documents. Overall its a pretty decent office app that helps you to do almost all your office works right on your smartphone.
7.WPS Office

WPS office is undoubtfully one of the best office app for smartphone devices. Over one billion downloads in Google play shows that how popular is WPS office among smartphone users. WPS office is small in size but efficient in operation.it's intuitive UI and features makes it stand out from other office apps. as an office app, it can handle PDF files as well. it supports all the basic PDF operations.
Using Office suite you can convert all office documents to PDFs, Scan Paper documents to  create PDF files, View PDF files, add bookmarks and annotations etc. it can do other office functions like creating slideshows, easy and powerful spreadsheets etc. it supports uploading and sharing your files to the cloud directly from the app as well.
Apart from minor bugs that have reported recently by its users, the app is a one-stop solution for viewing, editing and creating your office files.
8.CamScanner Phone PDF Reader
Camscanner is basically a document scanner app which let you create a PDF document easily by scanning a paper document. it can help you scan, create, store and sync various contents. This app lets you open the created PDF files as well which ensured a spot for this app in our list of best PDF reader apps For Android.
Using your phone camera it allows you to scan a paper document instantly converting it into PDF. its smart cropping and auto enhancing features help you to get clear and sharp documents.it has other features like extract texts from images, share PDFs and JPEGs, Print and Fax support etc.
Camscanner has premium features for its subscribers such as edit OCR results of the documents, create doc collage for multiple pages, add extra cloud space etc.
The one disadvantage of the free version of this app is that it is ad supported and it includes a watermark to your scanned documents.
9.Librera PDF Reader
Librera is a simple book reader app. apart from PDF, it supports other book formats as well. the app is lightweight sizes around 14MB. it has nicely designed interface and themes that help you read books in both day and night. it has a large library of ebooks and by using its efficient search feature you can search for books by name, author, genre etc. Librera office features a unique mode for musicians. in this mode it automatically scrolls music notes at any speed.
It features PDF functions like automatically finds and lists all the PDFs documents on the phone, change document background according to user wish, themes for reading in day and night, automatic scrolling, voice reading etc. The app is ad-supported, you can upgrade to pro version to have an ad-free experience of Librera PDF reader.
10.EzReader
Ezreader is a clean fast and free PDF ebook reader. it offers you ad-free PDF reading experience right on your smartphone. unlike other apps, it does not need any network connectivity to work. its features include support for multiple formats(PDF, txt, epub, and HTML etc.), share books, built-in file browser and quick recent books access and reading summaries etc.
Thanks for reading, if you find this article useful share and support us.