Instagram, the largest photo sharing application has over 800 million active users per month. Over 5 million downloads in Google play and app store shows how popular this app is. Due to the high and increasing popularity of this app, many companies are stepping into Instagram for promoting their business.  Whether you own a normal Instagram account or a business account it is important to keep your Instagram feed constantly updated.
we all live busy lives, and few of us manage more than one Instagram accounts. if you own multiple accounts it would be a pain in the ass to keep your feed updated in every account. if you are juggling with posts in your personal Instagram profile and company Instagram profile, being able to schedule Instagram post make things a lot easier.
with that being said, here we list out the popular third-party applications that you can use to schedule your Instagram posts.
1.Later – upload, manage and Schedule Instagram posts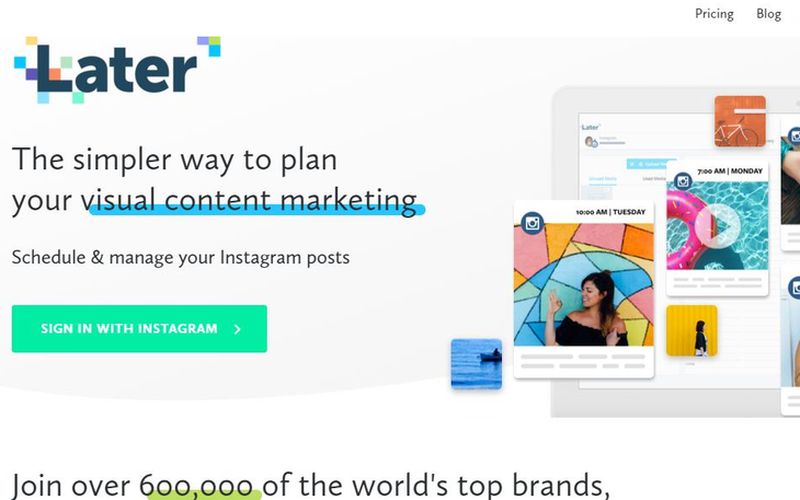 Later is a popular app to upload, manage and schedule your Instagram posts, you can schedule up to 30 posts with the free account, as a multi-platform app later is available for Android, iOS and as a website app as well. The main feature of later is that it allows you to upload photos directly from your computer or Mobile phone. it supports many other features like planning and scheduling your Instagram posts in advance, multi-user support, preview Instagram feeds as you plan etc. Upgrading your account will give you additional features and support for scheduling more than 30 posts.Their paid subscriptions start from 9$ per month to 49$ per month according to your needs.
2.Hootsuit – Schedule posts for Instagram and Twitter
HootSuite is one of the best social media management apps. It integrates all of your social media accounts into one place. by using HootSuite you can manage your social media accounts, connects with your clients and grow your business presence in social media.
If you are already using HootSuite to manage facebook, twitter or google plus you can simply add your Instagram account to HootSuite to start scheduling your Instagram posts. The main disadvantage of this app is that it cannot post to Instagram directly, instead, it will notify you when it's time for a scheduled post.
HootSuite is a free to download app, you can upgrade to HootSuite professional if you are an Entrepreneur, small business owner or an independent consultant.
Download Hootsuite for Android
3.Buffer
Buffer is another social media management app that helps you to drive traffic, increase fan engagement and save time on social media. it can help you to plan and schedule Instagram posts to hit your targeted audience at key time.
Buffer is a free to download app, as a free user you are allowed to have only one social media account per platform. The best thing about this app is that they are having different packages for both individuals and agencies to choose from. Their pricing plans vary from 10$ – 399$ per month.
4.Tailwind
Tailwind is a popular app Visual marketing app. Its feature includes Discover Content, Schedule Posts, Monitor Conversations, Amplify Reach, and Analyze Results of Instagram and Pinterest. With their drag and drop, functionality Tailwind helps you to ease out mass scheduling of your Instagram posts. Like other Instagram apps it also can't post to Instagram directly, It will give you push notifications to your mobile phone containing the post details.
Tailwind's Instagram subscription starts at 15$ per month, however, if you already have Pinterest subscription, Tailwind gives you one month free Instagram trial.
Other Honorable Mentions:
Sendible – Manage Social networks, Schedule Posts, and engage with your audience
Hashtagify.me – Search for hashtag popularity, Trends, and correlations.
Iconosquare – Schedule and manage instagram Posts.